Three Ships master distiller Andy Watts chats to Anton Pretorius about capturing the unique heritage of South Africa in a rich, complex and distinctive Pinotage whisky.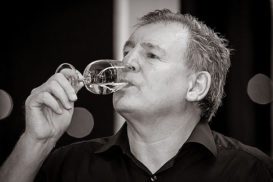 Three Ships Whisky has launched the first whisky in the world that is finished in a cask previously used for the maturation of Pinotage wine, a uniquely South African wine cultivar cloned in 1925. The Three Ships 15 Year Old Pinotage Cask Finish currently retails at R1 500 ($110.21) a bottle.
Q: What made you decide on a Pinotage-finished whisky?
AW: The idea first came to me in the early 2000s, but back then our industry was still very young and the world wasn't quite ready to accept such innovation from South Africa. I wanted to create a whisky that was truly unique to South Africa. Making whisky takes time and a lot of patience. This whisky took 15 years in maturation and the result is really exceptional.
Q: What does the process entail?
AW: I distilled grain in column stills and malt in pot stills and then matured them in American oak casks. I then revatted the spirit into casks previously used for the maturation of Pinotage wine for different periods to get the desired taste profile and depth of character.
Q: What flavours does the Pinotage whisky evoke?
AW: The wine casks imparted the typical Pinotage varietal character of red berry fruit and a slight earthiness to the whisky, which softens the malt component and complements the sweetness of the grain. With a red berry tinge, the whisky is light in style with prominent cherry, plum, tropical fruit and the typical Pinotage earthy notes on the nose. The palate is clean with hints of the banana and pineapple ending with a lingering warm finish.
Q: Who is your typical target market with Pinotage whisky?
AW: Someone who appreciates a limited edition whisky. With only 3 500 bottles released, it really is a collector's item. We made history with this launch and most people have bought two bottles – one to enjoy and the other to keep in their collection either to enjoy or resell in a few years' time.
Q: Do you offer clients a specific whisky experience at Three Ships?
AW: The James Sedgwick Distillery is the only commercial distillery in Africa and those interested in the whisky-making process can visit us to experience how we craft some of the world's best whiskies. The tastings and tours are limited to 10 people at a time and visitors can explore the passion and craftsmanship of South African whiskies, come to understand the art of whisky-making, learn about the rich history of the distillery spanning 130 years and taste some of the world's best whiskies.
Q: Explain the distillery processes at Three Ships?
AW: Grain whisky is distilled in column stills while malt whisky in pot stills. The newly made spirit is then drawn off the stills and matured in carefully selected American casks to mature for a minimum period of three years. At the distillery, we have about 150 000 casks currently in maturation. We have come to appreciate the interest that consumers have in various styles and finishes, and we believe that with our Three Ships range and Bain's Cape Mountain Whisky, we offer a difference style of whisky that would excite any whisky connoisseur. I am constantly experimenting with different finishes and styles to create limited edition whiskies that would create excitement. Although we are guided by market trends, it's more a case of having vision because what you distill today is certainly not ready tomorrow. With whisky spending a minimum of three years in cask, it takes careful forward planning to ensure that we have exceptional whisky in a few years' time that would be of interest to a wide variety of palates.
Q: What are some of the current trends when it comes to whisky?
AW: Style rather than age is currently the trend. Consumers are realising that age doesn't necessarily define the quality of a whisky. Also, no one thought 15 years ago that the interest in whisky would have escalated to the level it is today. So there are very few older whiskies. Most distilleries around the world are releasing no age statement whiskies (meaning it was matured for at least three years) with interesting finishes and cask selections.
DID YOU KNOW: Whiskey vs. Whisky
It's more than just a spelling issue. The main difference between whiskey and whisky is geographic, but it also has to do with ingredients. Scotch is whisky made in Scotland, while bourbon is whiskey made in the US. Scotch is made mostly from malted barley while bourbon is distilled from corn. The rule is that all whisky produced in America and Ireland are spelt with the 'e' as in 'whiskey', while those from Scotland and anywhere else are spelt without it.