A watershed year for the South African wine industry?
In 2018 the Vinpro Production Plan survey was conducted for the 15th consecutive year in the wine industry. The findings show that although the average producer are still not on sustainable income levels, the industry have improved year on year, with an increase in production units that are financially viable and a decrease in the proportion that continue to sustain losses year on year.
The start of the recovery remains fragile, with a decreasing and ageing vineyard status. In addition the interim effect of the drought are still playing out on grapevines, which will likely influence the size of the 2019 harvest. This will also have an impact on the financial viability of many producers whom have already suffered a blow in 2018. Fortunately amidst a much smaller harvest, tightened local and global wine supplies in 2018, led to the start of a much needed price correction along the wine value chain.
Introduction
During 2018 the Vinpro Agricultural Economics Department conducted a comprehensive analysis across all 10 wine districts. The project is financially supported by Winetech, the National Agricultural Marketing Council (NAMC), Standard Bank, ABSA, FNB and Nedbank. This ensures a free of charge financial management analysis for any primary wine grape producer. The primary objective is to provide an on-farm financial analysis of each participant's farming unit and to benchmark it against the regional average. The breakdown of the financial report includes: the production structure, cost structure and profitability per enterprise and cultivar.
This year 215 farming units participated in the study and represented 20 474 ha (24% of the total South African area planted to wine grapes in 2017), producing 302 662 tons (24% of the total South African crop in 2018), with 63% white- and 37% red wine grapes. Of the total, 58% was harvested mechanically – a year on year (YoY) decrease, with the smaller harvest directly impacting towards this finding (Figure 1).
The total vintage – juice and concentrate for non-alcoholic purposes, wine for brandy and distilling wine included – amounts to 957 million litres, calculated at an average recovery of 773 litres per ton of grapes.
FIGURE 1. Tonnes mechanically harvested per district.
The analysis applies to overall grapevine production (bearing, as well as non-bearing hectares) and makes no distinction between cultivars and specific blocks. Regarding income, distinction is made between different wine grape cultivars. The vast majority of participants have multiple enterprises, and varies with regards to the size of their production units and wine grape enterprises. This report represents industry averages, calculated by determining the weighted average of all participants.
The Swartland (Malmesbury) district is evaluated separately, as this study group cultivates a large component of its vineyards dry land (without irrigation) and/or with only supplementary irrigation. As a result yields, gross income and cash expenditure, have been more volatile for the area, which has also been stricken by drought, with three consecutive very low rainfall years. This relates to an alternative production, cost and capital structure.
Reminiscent of the challenges faced, Swartland producers have been curbing cash expenditure (per hectare), at levels last seen prior to 2015. At the same time, grape price increases have not been able to commensurate for lower yields obtained, with the subsequent smallest percentage of new plantings (under 3 years) that have been observed for the area in the last decade.
The 2018 harvest
"The season was quite challenging, due to a prolonged drought which some believe to be the worst in 100 years, accompanied by water restrictions and frost damage in some areas. The total harvest was at 1 220 920 tonnes, 15% smaller than the vintage of 2017. A decrease was expected due to the third consecutive very dry, hot season. Bunches were characterised by smaller than usual berry sizes. However, smaller berries usually have good colour and flavour intensity and this, along with cooler weather during the harvest period relieved some pressure on vines and bode well for quality," says Francois Viljoen, manager of Vinpro's Viticulture Consultation Service.
All regions, except the Breedekloof, reported a smaller wine grape crop, with the Olifants River region being hit the hardest due to the region's water allocation amounting to only 20% of the normal allowance from the Clanwilliam Dam. In addition to water shortages, some vines in the Breedekloof, Worcester and Robertson areas were affected by frost damage in September and October 2017. The Northern Cape region, where water supply was sufficient, also had a decrease in production as vines recovered poorly from frost damage earlier in the season.
The cost of wine grape production
The financial capacity needed in preparation for the 2018 vintage comprised of cash items and provision for renewal, excluding all tax, interest and entrepeneurial obligations (Figure 2). In comparison to the 2017 season the industry average total production cost (excluding dry land vineyards – Swartland) increased by 2% to R48 423/ha. The smaller than expected increase can be attributed to the prolonged drought in many areas, an accompanied smaller harvest (-15%), and the financial/cashflow position of many producers whom curbed their expenditure (amongst others on direct, mechanical and labour costs).
FIGURE 2. Total industry average production cost.
Cash expenditure
Cash expenditure is specified as direct cost, labour, general expenses and non-capital related expenditure on mechanisation and fixed improvements. Total cash expenditure increased with 1.4% to R37 062/ha in the 2018 production year.
The drier season had a definite impact on direct costs with a 4.6% decline in expenditure per hectare (Figure 3). Crop protection and fertiliser decreased with 10.6% and 1.8% respectively, whereas a sharp increase of 17.6% was recorded for herbicides. The former can be attributed to a marked increase in the tolerance/resistance of specific weeds to particular herbicides, while producers also took greater care to eliminate any competition to available soil mositure for grapevines.
FIGURE 3. Movement of direct cost – industry average.
Secondly, while labour cost (the greatest cost contributor to wine grape cultivation) and wage rates increase annually, often in excess of CPI, a 1.1% decrease was observed (Figure 4). The context of this decrease is important as it is directly related to the smaller harvest, number of canopy management actions applied and does not necessarily relate to a productivity increase in labour.
FIGURE 4. Movement of labour cost – industry average.
An interesting observation (and possible structural shift) was also noted with the composition of labour, with a decreasing permanent labour component in favour of a increasing proportion of seasonal- and contract labour. A vast proportion of the study group are diversified in their enterprises and this can also be attributed to permament labour (which are usually more skilled) being applied in other enterprises.
Wine grapes are cultivated in a variety of different production regions in South-Africa, with variation in topography, climate, cultivation practices and correspondingly the production and cost structures. With the greastest, regional differences in the cost structure being in labour-, mechanisation- and direct costs.
The effect of the prolonged drought, scarce water supplies and smaller harvest could also be observed in the mitigated increase in mechanisation costs and general expenditure items such as electricity (Figure 6).
FIGURE 5. Movement of mechanisation cost – industry average.
FIGURE 6. Movement of general expenditure – industry average.
The drier season and accompanied smaller harvest contributed to an alteration in the contribution of specific cost categories to total annual cash expenditure for the reasons alluded to. This was emphasized in regions which experienced severe drought/crop losses, where producers drastically had to adapt their cultivation practices and or restrict expenditure (Figure 7).
FIGURE 7. Percentage composition of annual cash expenditure – industry average.
Provision for renewal
Annual production cost is not only limited to cash expenditure; capital items are also depleted over time, with the renewal of such items deemed critical to ensure sustainable production in the long term. By calculating relevant replacement values of tractors, equipment, other means of production, vineyards and buildings, a realistic and practical non cash flow provision is indicated. By using the principle 'provision for renewal', a larger amount is recovered than in the case of 'depreciation'. To a certain extent this addresses the problem of linear depreciation in value for tax purposes.
When calculating provision for renewal, capital items are written off over different periods at renewal value:
Fixed improvements (excluding the main dwelling)      60 years
Vineyards and other long term crops                              20 years
Moveable assets/production means                                7 – 15 years
Total provision for renewal amounted to R11 361ha in the 2018 production year – a 3.7% increase from 2017. The sub-inflation increase is indicative that many producers are either not in a position to replace capital items (as is also evident of the rapidly ageing vineyard status) or are choosing to diversify to other more profitable crops. This statement is made on the backdrop of inflation in many capital inputs that are imported or undergoing inflationary increases far exceeding 3.7%.
The average age of winegrape vineyards continued to increase anually, with more than 18% of vineyards in the survey exceeding 20 years of age and 10 % of the grapevines in the survey are of 3 years of age or younger. This is against a general norm that 15% of vines should be three years or younger and that the component of vineyards older than 20 years should not exceed 15% (Figure 8).
Unsustainable average gross income levels limits the capability of producers to do sufficient capital replacement. As a result grapevines, buildings and moveables progressively begin and or continue to exceed accepted industry lifespan norms as replacement are postponed. Alternatively resources are allocated to crops that yields higher NFI's. The former is apparent in the South African Wine Industry where grapevines are not only getting less, but also older anually as depicted below (Figure 8).
FIGURE 8. Age composition – industry average.
Production, cost and market structure
The average surface planted to wine grapes per participant was 93 ha. Economies of scale have been impacting on many agricultural commodities, depending on where producers are locked into the value chain. This may differ in rationale from business to business and between districts. In many cases the increased bargaining power with higher turnover are more common than the traditional cost saving effect on overheads. It should be noted that many larger units actually produce wine grapes more costly than smaller very efficient units.
FIGURE 9. Hectares planted to grapevines per participant (bearing and non-bearing hectares) – industry average.
Of these very efficient units as measured by NFI/ha (regardless of size) many are characterised by production efficiencies as can be observed from their cost composition. As observed in the 2018 study group these units typically spent a greater proportion of cash expenditure on direct costs (21% vs 17%), a smaller proportion on labour (37% vs 42%) and a larger proportion are harvested mechanically (81% vs 58%) when compared to the industry average. Being more cost efficient, does not always relate to spending less (as you can also "save" yourself into a demise), but rather spending smarter (in many cases with the help of precision technologies).
One of the distinguishing characteristics of the "top producers" over the last nine years are that they tend to spend more on direct costs (in particular also fertiliser) as shown in Figure 10. Likewise many of those that do better (and often spend more) don't just spend more on fertiliser, but apply fertiliser selectively between blocks, according to the soil potential.
FIGURE 10. Comparative spending paterns the "top producers" vs the industry average. (2018* will be overrepresented as result of the drought).
As seen in Figure 10, the "top producers", also tend to spend less on cash expenditure than the industry for the previous 8 years. While the drought had a definite impact to contract 2018 industry expenditure (as would be expected w.r.t water availability and affordability), the "top" were not characterised by just spending less per hectare.
Of the "top producers", weighted by their wine enterprise hectares, 52.3% is diversified with two or more enterprises on the farm and 58.9% have their own route to market or are not dependent on a single wholesale buyer. Correspondingly, a meaningful correlation between the NFI/ha and price received per ton was then apparent in the top producers' dataset. This correlation was nearly 5 times the magnitude of that between NFI/ha and yield per hectare, indicating that while yields are important price matters more.
The 2018 production year was characterised with greatly varying yields between, but also within production regions. The average production for bearing and non-bearing grapevines for the studygroup was 16.46 ton/ha. With substantial yield-losses on specific cultivar's in certain regions (Figure 11).
FIGURE 11. Average yield (bearing and non-bearing hectares) – industry average.
Of the white cultivars Chenin blanc, Colombar and Chardonnay were met with decreases in average yields, whilst Sauvignon blanc, Semillon and Viognier yields were slightly up for the study group (Figure 12).
FIGURE 12. Average yield white (bearing and non-bearing hectares) – industry average.
Similarly lower average yields were attainted on Cabernet Sauvignon, Shiraz, Merlot and Pinot noir. While average yields on Pinotage, Cinsaut and Ruby Cabernet were higher (Figure 13).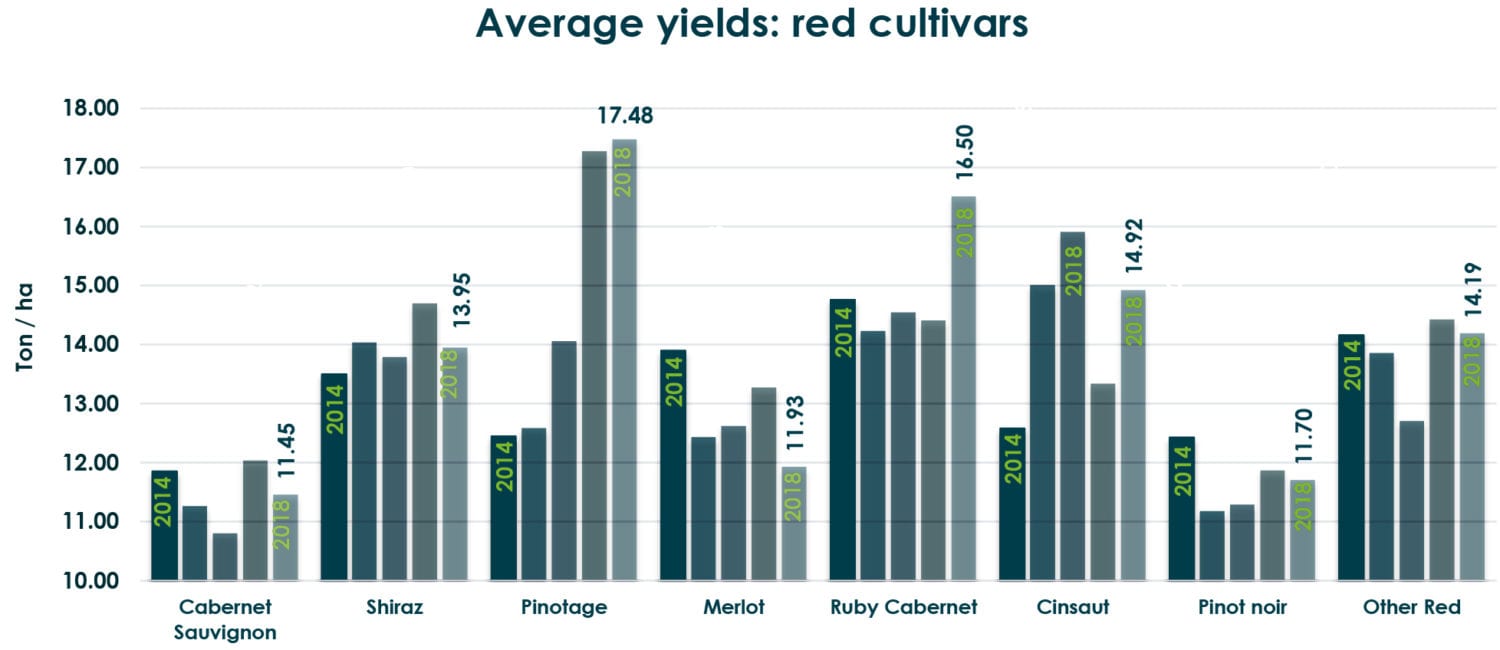 FIGURE 13. Average yield red (bearing and non-bearing hectares) – industry average.
Cultivar analyses have been conducted since 2014 to indicate production outcome differences between the most planted white and red cultivars. The former assists producers with cultivar relevant information, which can be utilised in annual and long-term enterprise planning, contributing to greater profitability.
Profitability
The profitability, in other words net farming income (NFI), is calculated as gross income (R/ton x ton/ha) minus total production cost. The latter consists of cash expenditure and provision for renewal, but excludes entrepreneurial remuneration, interest obligations and tax. The total income is calculated for a specific vintage and although the majority of producers realise their income at different stages over the financial year, depending on their business model, no time value of money is taken into account (Figure 14).
Gross Income increased over the last decade and has predominantly been driven by yield increases, with the 2018 increase due to rising grape prices. Similarly, future gross income increases, would largely need to stem out of grape price increases. This is due to the vineyard status having reached a structural check due to too many years of low profitability leading to older and aged vineyards, that would not only preclude the likelihood of an noteworthy increase in the harvest size, but rather a smaller harvest annually for the foreseeable future.
FIGURE 14. Profitability – industry average.
For the 2018 harvest the gross income amounted to R63 396 per hectare (the average for bearing- and non-bearing vineyards in total), a 17% increase year-on-year. The gross margin, i.e. the cash flow effect per hectare was R26 334 represenfing a 7.37% annual average growth since 2012, albeit this growth comes from a low base. The gross margin also appears better than would be expected in a normal year (due to decreases in direct costs and costs directly related to the smaller harvest and drier season).
After provision is made for renewal, an increase of 125% in NFI was realised at R14 973 per hectare. As a guideline for economically viable production, the average gross income and NFI for the 2018 production year, should in fact have realised at least R78 439 and R30 000 per hectare respectively.
This is seen as a minimum sustainable requirement, additionally included in this amount, is an amount for entrepreneurial remuneration and opportunity cost/risk (inflation plus 5%). This does not necessarily reflect the full opportunity cost faced with regards to alternative crop choices.
At an industry-level the profitability-levels, of primary producers, are not yet where it needs to be, although it has improved and the majority of primary producers in the South African Wine Industry are better-off than in 2017. The former can be seen in Figure 15, where 5% more producers are making a "low profit", 6% more are profitabile and 9% less are sustaining losses.
FIGURE 15. Profitability analysis (2013 – 2018) – industry average.
Break-even
The break-even price is the amount needed to cover the total production cost – no enterpreneurial remuneration, interest or tax taken into account. By the same token the break-even price is the total production cost, divided by the average yield per ha. Hence yield increases can more than offset increases in total production cost. However, the former becomes increasingly difficult to attain with ageing vineyards and their accompanied diminishing productivity (Figure 16).
For a number of years this is also how the South African Wine Industry managed to offset cost increases with stagnant income (due to low price adjustments to producers). As the vineyards continue to age, the resilience to offset cost increases, diminishes. Producer prices received at farm level have not sufficiently exceeded total production cost, with the effect that amounts intended for renewal are rechanneled to substain entrepreneurs, and cover obligations at the expense of an ageing capital structure and vineyards.
The break-even point increased with 9.5% to R2 942/ton for the 2018 production year. In other words: the first R 2 942 for a ton of grapes received by the producer during the 2018 harvest should be applied for total production cost (Figure 16).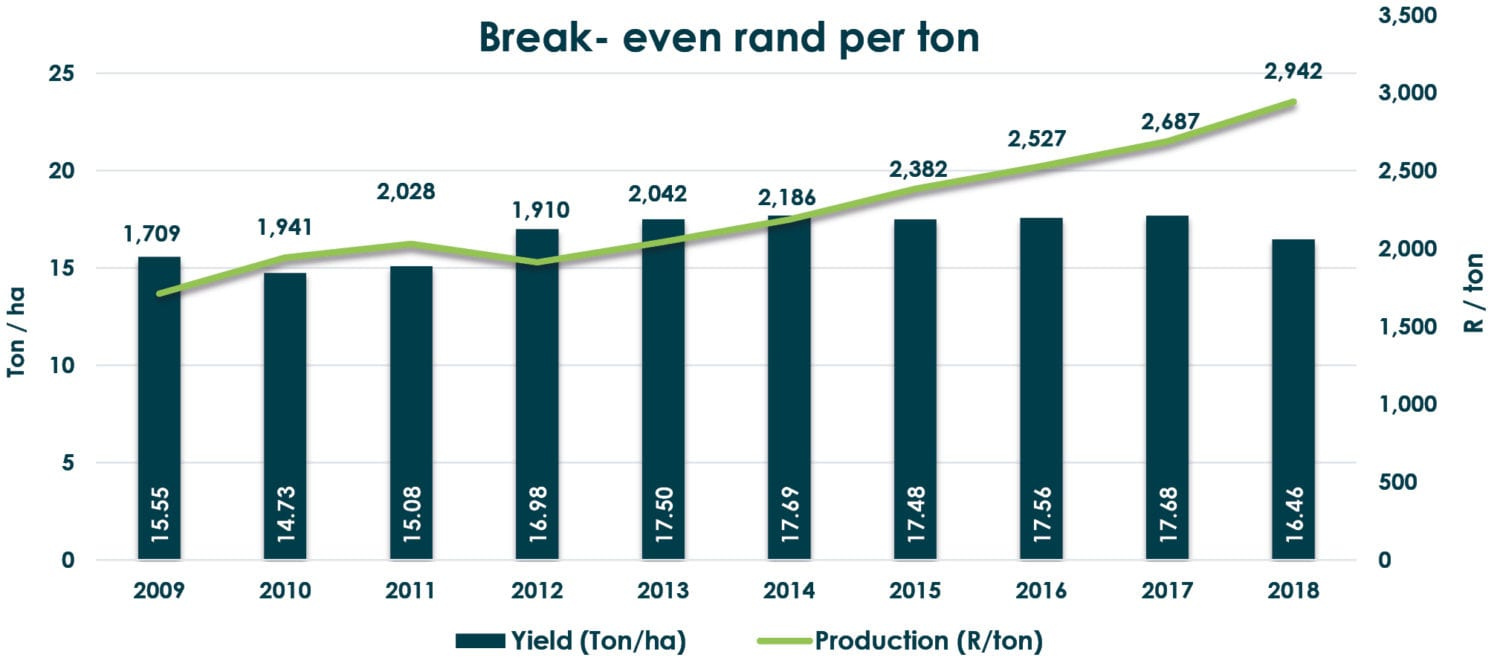 FIGURE 16. Influence of production on break-even of total production cost – industry average.
Average yields differ considerably between districts, as well as among different cultivars, while the production cost does not differ to the same extent. This gives rise to large differences in break-even points between districts and between cultivars. In the same way even greater discrepencies can be observed in prices, between cultivars and cellars (business models), between- and within districts, posing both challenges and opportunities.
Conclusion
The 2018 production season could go down as "the watershed year", literally and figuratively for the South African Wine Industry. With a measure of a structural correction in prices (in local and global markets), supported by dwindling and low wine supplies. It was a difficult year for many producers, with limited "water" availability and or lower than expected yields. The industry finds itself in an early upswing phase, backed by positive output-price momentum. However, the measure by which this "upswing phase" will transpire, will greatly depend on the extent grapevines can recover from the drought and yields can return to normal (on the back of an ageing vineyard status).
If profitability can continue to increase for the immediate future, we could well see that fortunes can shift in the next few years, boding well for both the South African Wine Industry and Brand South Africa.
– For more information, contact Pierre-André Rabie at rabie@vinpro.co.za or Elriza Marcus at elriza@vinpro.co.za.