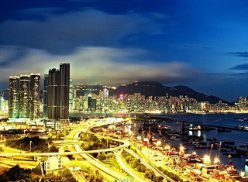 Businesses in South Africa, including wine businesses, are increasingly looking east. China's importance in the global economy is massive, but accessing it might seem scary to some. But there's no need to stress – the Hong Kong Trade Development Council (HKTDC) is there to help you.
This statutory body was established in 1966 and is dedicated to promoting Hong Kong trade. Its mission is to explore and expand business opportunities for Hong Kong companies, especially small and medium-sized companies, and to connect them with business partners worldwide.
There are several reasons for Hong Kong's importance in global trade. Hong Kong, with a population of 7.3 million, is the world's eighth-largest trading economy and is one of the world's biggest exporters of clothing, watches, toys and electronics. No wonder phrases such as "international financial centre", "Asia's world city", "China's international financial window", "superconnector" and "springboard to success in Asia" are so often associated with this city. Hong Kong is strategically situated – its seaport is one of the world's busiest cargo centres and its airport connects to more than 50 destinations inland.
Hong Kong has low tax rates such as 15% salaries tax and 16.5% profits tax. There's no VAT, sales tax or capital gains tax. Impressed? And how about Hong Kong's unrivalled experience in doing business with China, its robust and transparent legal system, world-class communications technology and well-developed infrastructure?
There's also the Belt and Road Initiative, which refers to the Silk Road Economic Belt and 21st Century Maritime Silk Road. This development strategy was launched by the Chinese government to promote economic cooperation between China and countries included in the Belt and Road routes.
If you're aiming to export wine to China, Hong Kong is a good starting point. The strong emergence of the mainland economy and the eastward shift of the global marketplace make Hong Kong's offerings attractive to wine exporters. And the HKTDC, which promotes Hong Kong as Asia's business platform, is there to help you enter the Asian and mainland markets.