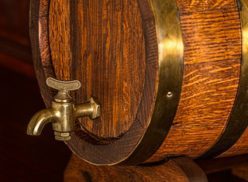 The South African wine industry has not been untouched by the serious effect of the current drought in the Western Cape. The wine industry body VinPro realises its severity and encourages producers to make use of the information and advice that are available in this regard.
The Western Cape received 30% less rainfall than the amount needed at this stage and dam levels are currently at 35% compared to 62% this time last year.
2018 harvest
Innovative production practices and a diversified geographic production area helped buffer the effect of the drought on the 2017 harvest. However, insufficient rainfall in the winter months will undoubtedly have an effect on vine functionality and yield going forward.
The 2018 harvest is dependent on a number of factors, including sufficient irrigation in the post-harvest period and during the new growing season in the runup to the next harvest. Any stress on vines during the season can lead to smaller berry size. Although this bodes well for quality, the lower yield may have a negative effect on producer income and sustainability.
"A decline of 1% in the 2018 harvest translates into a R50 million decline in income at the producer farmgate," says Rico Basson, VinPro MD. "We realise the urgency of the issue and serious effect it will have on our members." The current lack of water in the Olifants River area is a significant crisis for the agricultural sector in the region.
Adaptive practices
"The effects of the current drought are long term. Businesses need to adapt to a 'new normal'. We would like to urge wine producers to adopt new expanded technologies and practices and take advantage of VinPro's expertise and services in this regard," Basson says.
In the short term producers need to carefully manage water loss due to leaking dams and pipes. Producers also need to focus on irrigation technology and techniques.
"The starting point for any well-executed irrigation scheduling system is reliable soil moisture measurement," says Francois Viljoen, VinPro consultation services manager. The level of soil water retention largely depends on good soil preparation practises. Cover crops should also be planted after careful consideration as these also ensure good water absorption and better water retention when the rainy season starts.
VinPro and Winetech presented a series of regional information days in September that focused on effective viticultural practices in times of water scarcity. Some of the tips shared by specialists in the field were:
Determine the point at which your grapevine is taking stress, so that you can apply water optimally and even increase quality
Irrigation should be timed meticulously. If only one irrigation is planned, véraison is the appropriate time. If there is enough water for a second round, vineyards can be irrigated during the pea berry stage. If the winter was very dry and there is enough water available for a third irrigation, it can be applied just before flowering to ensure good set.
Avoid impulse irrigation, as a lot of water is lost via evaporation. Rather ensure that the entire root volume is wet and allow it to dry before irrigating again.
Do not remove grapes unnecessarily or mothball vineyards; it won't have a significant effect on transpiration. No grapes equals no production.
VinPro's regional viticulturists are able to assist producers with drought-specific advice and issued a guideline titled Management of grapevines during drought periods in collaboration with the Institute for Grape and Wine Sciences (IGWS) on the two organisations' websites. Read the guideline here: http://igws.co.za/article/guidelines/drought-conditions/management-of-grapevines-during-drought-periods
Alternative cultivars
In the longer term producers will have to look at quality, drought-resistant vines which produce more flavour, acidity and intensity, but have lower water needs. "These include new clones of Grenache and cultivars such as Assyrtiko, Verdelho, Chenin Blanc, Vermentino, Aglianico, Cabernet Sauvignon and Touriga Nacional, which are suited to South Africa's growing conditions and changing climate," says Nico Spreeth, Vititec CEO. "Currently the industry is aligning its research activities to address the above objectives.
Stakeholder discussions
VinPro representatives take part in various discussions on effective drought management with industry and Government stakeholders, towards compiling an effective communication strategy for the Western Cape agricultural industry. Short and medium term plans are currently being developed to manage the situation and develop scenarios to model financial implications of the current situation.
The current drought highlights the urgent need for the upgrading of dam infrastructure such as the Clanwilliam Dam and canal system and the expansion of capacity. A reduction in bureaucratic red tape is now also of utmost importance. VinPro is represented on a Western Cape Department of Agriculture task team which address issues like these and current discussions focus strongly on the above mentioned issues.
Talk to us
"We acknowledge that the majority of our producers already adhere to strict water management. Many of you have already made a lot of adjustments toward efficiency and incorporated innovative new ideas to store, recycle and save water. If you know of any water recycling/saving initiatives VinPro should know about, please share this with us at info@vinpro.co.za," says Basson.