The aim of this study was to try and obtain a better understanding of South African wine consumers, in this case, specifically consumers from the Gauteng area. The study focused on consumers' relationships with wine, as well as the aspects affecting their purchase decisions.
In recent years, there has been greater international focus on scientifically evaluating the opinions and perceptions of consumers. These non-expert opinions provide the best indication of consumer preferences and consumption patterns.
There are several methods which can be used for consumer research, but one of the most well-known and widely used, is focus groups. A focus group, is created by recruiting several people that specifically fit predetermined criteria, in order for them to be led in a discussion of a predetermined topic by a facilitator. Focus groups are conversation orientated, allowing respondents to voice their opinions in an unthreatening and relaxed environment. For our study, we did six focus groups, three male and three female. All of them were conducted in Gauteng, and the participants were from urban areas of Johannesburg. All participants were regular (bottled) wine consumers, who purchase wine for their own consumption.
At the point of purchase there are many aspects that affect the consumers' final choice, but it generally comes down to four key factors, namely emotional, social, intrinsic and extrinsic. But what exactly are these factors? And what influence do they have on consumers' preferences and purchasing habits?
Table 1 illustrates some of the main emotional, social, intrinsic and extrinsic factors, for males and female consumers.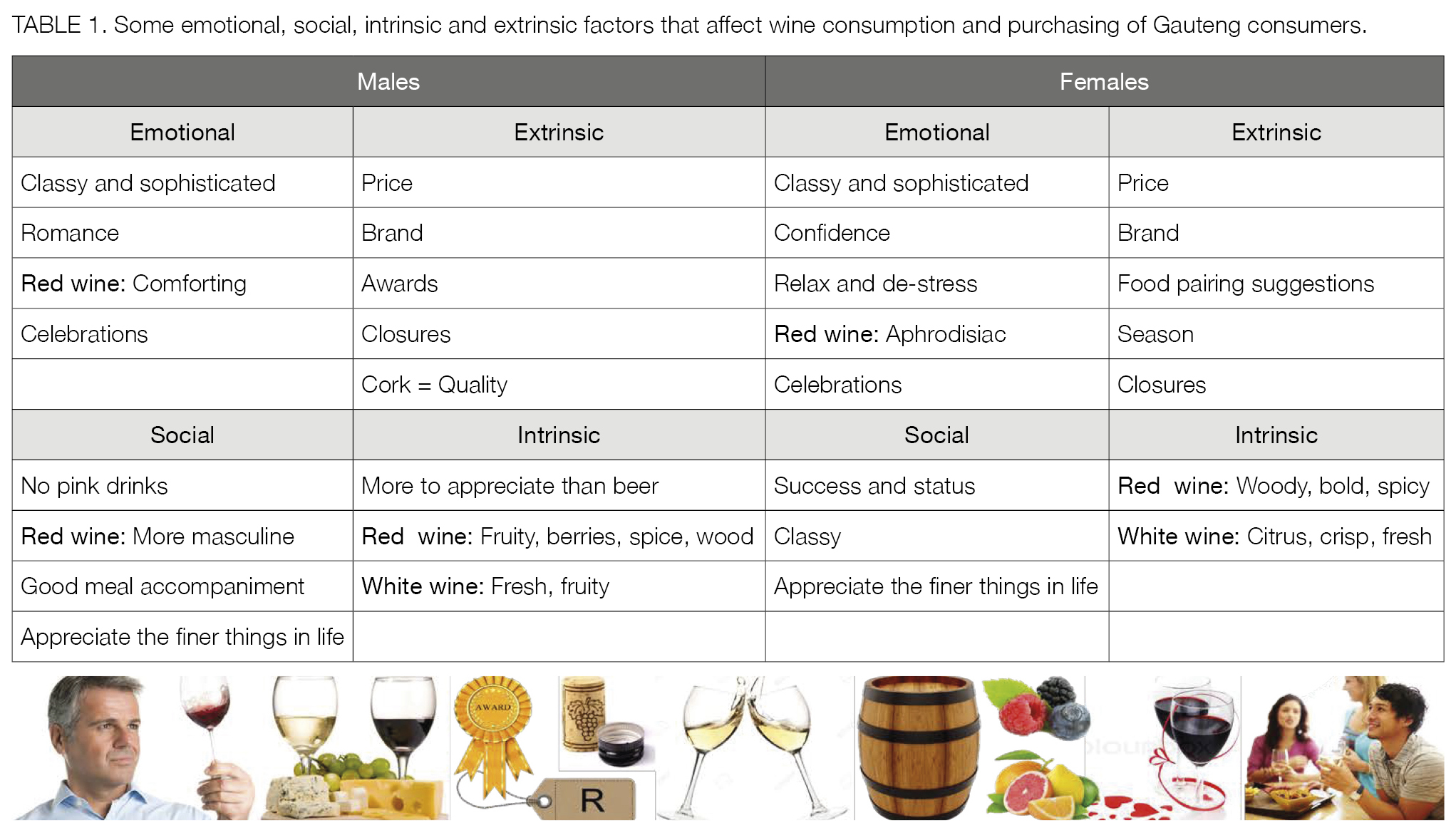 Emotional factors are things that evoke emotions, for example how drinking wine makes the consumer feel or the emotions associated with wine consumption. The majority of the surveyed participants felt that wine in itself was classy and sophisticated and by drinking it you were in turn elegant and erudite. Also that wine is an ideal beverage for occasions like parties, birthdays, weddings, graduations, and other similar celebrations. From the male participant perspective, wine is considered as important for adding romance to an occasion with your significant other – "you don't crack open two beers for a romantic evening". For ladies, wine is seen more often as a tool for de-stressing and relaxation. The emotional factors are closely related to social factors.
Social factors include the context in which wine is consumed and how it is perceived. In general, most consumers feel, that drinking wine is associated with success, status, and class, and believe that it shows that you have an appreciation for the finer things in life.
Wine is a beverage which can be consumed at large social gatherings, or simply enjoyed alone. Male wine consumers are of the opinion, that wine is a good beverage for mixed gender occasions, especially when there is a meal involved. "No pink drinks" – pink drinks, whether a cocktail or Rosé wine, are a no no for most men. Red wine is also still seen as the most masculine of all wine.
A wine bottle's appearance and label provide extrinsic cues, and there are many in wine, including price, label, bottling, wine origin, wine ageing, variety, ratings, and awards, or brand. These cues can be divided into two groups. The first group are cues related to the product, like grape variety, vintage, wooded/unwooded, and the origin of the wine. The second group are cues that can change without changing the product itself, like price, packaging, and branding. The way this information is presented to the consumer will influence purchase decisions.
The extrinsic factors that consumers deemed to be the most important were, convenience, price, brand/estate, awards, cultivar, food pairing, closures, and weather/season.
Consumers still feel intimidated by the sheer number of bottles of wines on the shelves, and feel overwhelmed when they must make a choice. This results in them going for well-known established brands and wines they have tasted before.
Wine purchasing is mostly convenience based. Done with groceries or bought from the local bottle store. Very few consumers purchase wine online. The first and most important thing that consumers look at is price. Consumers deem an acceptable price range to be between R50 and R100 per bottle. A bottle that is R250 or more, must be exceptional and would only be purchased on a very special occasion. Consumers also brought up the fact that wine in restaurants can be very expensive. Consequently, despite the restaurant stocking a wine they would normally purchase at a supermarket or bottle store, because it is often unaffordable in the restaurant. Both male and female consumers felt there was a large emphasis on wine with food, the right bottle definitely enhances a meal.
Consumers admit that screw/twist caps are convenient, however, they still enjoy the ritual around 'popping a cork'. Wine with a cork is also seen as better quality and consumers are willing to spend more money on a bottle of wine that has a cork rather than a twist cap.
Intrinsic factors include, chemical and physical properties of the product which can only be perceived when consumed. Consumers' vocabularies are limited and they battle to articulate what exactly they like or dislike about a wine. For a red wine, the most common aroma descriptors are "woody" and "berries", and for white "fresh" and "citrus". This is the same for taste where consumers can only really comment on the bitterness, e.g. "the wine was too bitter" or sweetness "I like/dislike sweet wines".
The consumers felt that there is more to appreciate in a wine than in a beer (with the exception of some craft beer). White wine is seen to be more easy drinking, whereas red wine you will take more time to appreciate it.
It is evident from this research that consumers have varying relationships with wine. Gender is the biggest divider in consumers. In general, the social and emotional connection to wine is more important to females. For males it differs, wine is still seen as a symbol of sophistication, but ranks alongside spirits and beers in order of preference. Consumption is generally guided by occasions.
This research was made possible by Winetech funding, project IWBT W13 / 02, "Rapid descriptive sensory methods for wine evaluation: Special focus on working environment optimisation or rapid methods and streamlining of workflow".
– For more information, contact Carla Weightman at cweightman@sun.ac.za or Hélène Nieuwoudt at hhn@sun.ac.za.