Announcements of the temporary closure of the hospitality sectors of certain wine farms have been streaming in since Monday, following the news that several wineries have had exposure to members of a tour group who have since tested positive for COVID-19. As wineries depend on tourism, it is important not to spread panic and keep an eye on the affected farms' social media pages for accurate info.
The closure of winery restaurants and tasting rooms are precautionary measures aiming to limit the spread of COVID-19. A few wineries who did not have contact with the tour group who have since confirmed positive COVID-19 cases, have also come to the decision to close their tourism offerings for a period of up to two weeks with the health and safety of both staff and visitors being a main priority.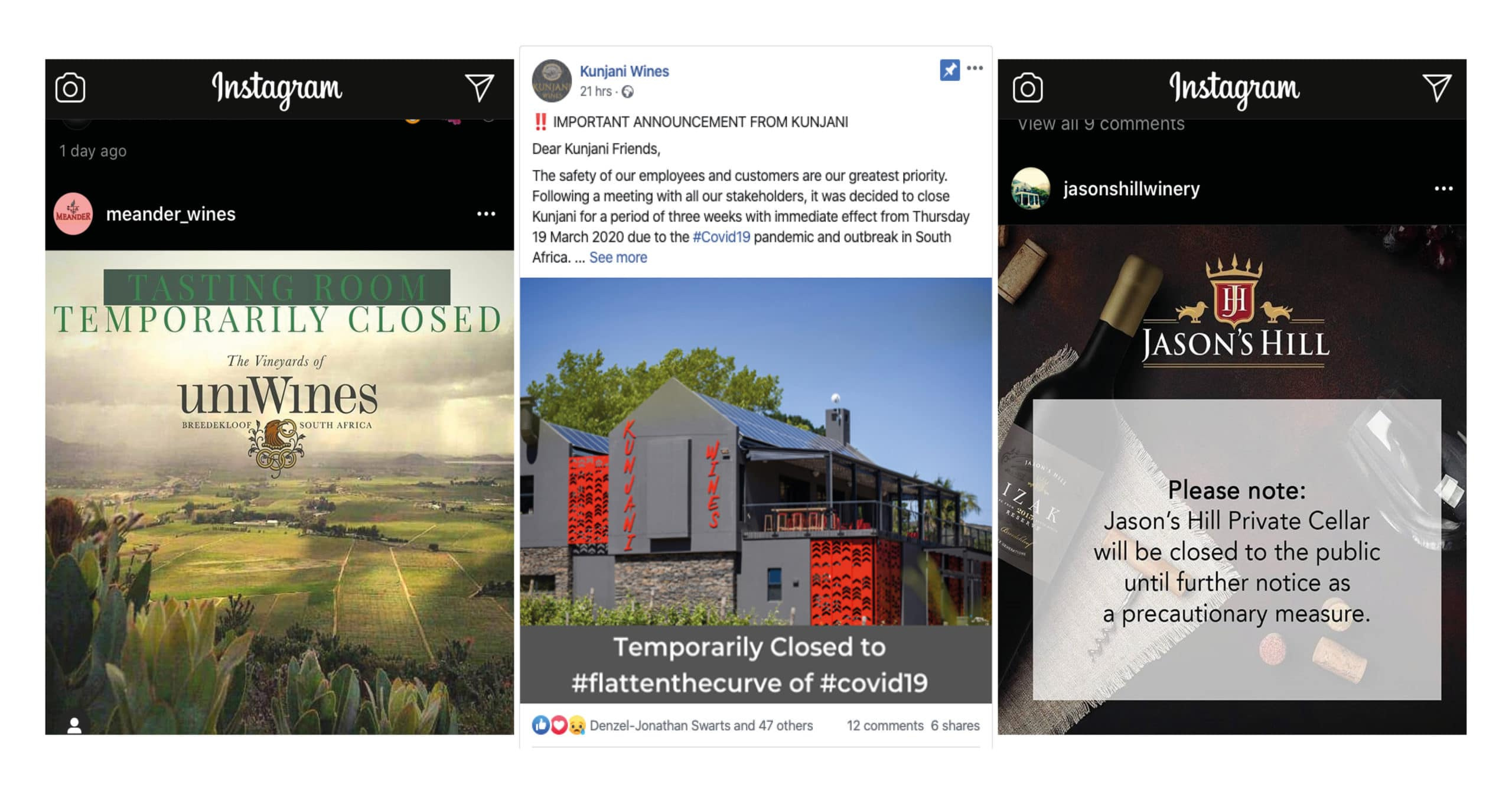 Although wine cannot be enjoyed in some of our favourite tasting rooms or winery restaurants in the following weeks, it is business as usual in terms of sales and online sales of wine. For many of these wineries, you can still order your favourite wines to be delivered to your home.
After President Cyril Ramaphosa declared a National State of Disaster due to the Coronavirus pandemic, the following wineries have announced temporary closure:
Almenkerk (until further notice)
Alto (until further notice)
Alvi's Drift
Anthonij Rupert Wyne
Blaauwklippen (until further notice)
Bosman Family Vineyards Hermanus
Bouchard Finlayson
Brenaissance Wine & Stud Estate (until further notice)
Bushmanspad Estate
Climor Wines
Clos Malverne (until further notice)

Cloof Wine Estate (will go into 21-day lockdown from 27 March) 

Darling Cellars
De Grendel Wine & Restaurant

Delheim Wines (will go into 21-day lockdown from 26 March)

De Wet Cellar
De Wetshof Estate
Deux Freres (until further notice)
Diemersfontein Wine and Country Estate
Eagle's Cliff
Exdiem Wine & Olives
Fleur du Cap (until further notice)
Gabriëlskloof
Glen Carlou (until further notice)
Glenelly Estate (until 31 March)
Graham Beck
Grangehurst (until further notice)
Groot Constantia (until further notice)
Idiom (until further notice)
Jason's Hill
J.C Le Roux (until further notice)
Kanonkop (until further notice)
Kanu Wines (until further notice)
Keermont (until after Easter Holiday)
Koelenhof (until further notice)
Kleinhoekkloof Wines
Klein Constantia
Kleinood (until further notice)
Kleine Zalze Wine Estate (until 29 March)
Klein Welmoed (until further notice)
Kunjani (three weeks – until further notice)
La Motte Wines
L'Avenir Wine Estate (until further notice)
Leopard's Leap
Leeu Collection
L'Ormarins
Meerlust (until further notice)
Nederburg Wines
Neil Ellis (until further notice)
Neethlingshof (until 31 March)
Oak Valley
Overhex
Paul Cluver Wines
Peter Falke wines (until further notice)
Reyneke Wines
Ridgeback Wines
Rietvallei Wine Estate
Seven Springs
Silverthorn Wines
Skilpadvlei (until further notice)
Slanghoek Wine Cellar
Steenberg
Stellenbosch Vineyards
Stellenrust (until 14 April)
Stettyn Family Vineyards
Tanagra
Thelema (until further notice)
Tokara
UniWines
Van Ryn's (until further notice)
Vergelegen
Vondeling
Vriesenhof (until further notice)
Warwick (until 29 March)
Waterford (until 1 April)
Yonder Hill Wines (until 6 April)
Zandvliet Wine Estate
Zorgvliet (until further notice)