The winners of the 2018 FNB Sauvignon Blanc Top Ten were announced during a well-attended wine crafters affair at the picturesque Landtscap outside Stellenbosch. Presented by the Sauvignon Blanc Interest Group of South Africa (SBIG) and sponsored by FNB Business since 2007, the competition has become the country's foremost platform for Sauvignon Blanc producers.
Sauvignon Blanc is a white wine that owes much of its popularity to winemakers in Bordeaux and the Loire Valley in France. The Sauvignon Blanc taste is very different to other white wines because of its green and herbaceous flavours. The name Sauvignon Blanc means "Wild White" and the grape is related to Traminer, with origins in the south of France.
Renowned winemaker Neil Ellis from Neil Ellis Wine Estate gave an emotional farewell speech before announcing that he's officially stepping down as chairman of the Sauvignon Blanc tasting panel. "What we got right is that we did it with a human touch," he said during his speech.
RJ Botha from Kleine Zalze Wine Estate and chairman of the Sauvignon Blanc Interest Group said: "In a country where vineyard interest is declining, sauvignon blanc is on the rise."
The winners of the FNB Sauvignon Blanc Top 10 were: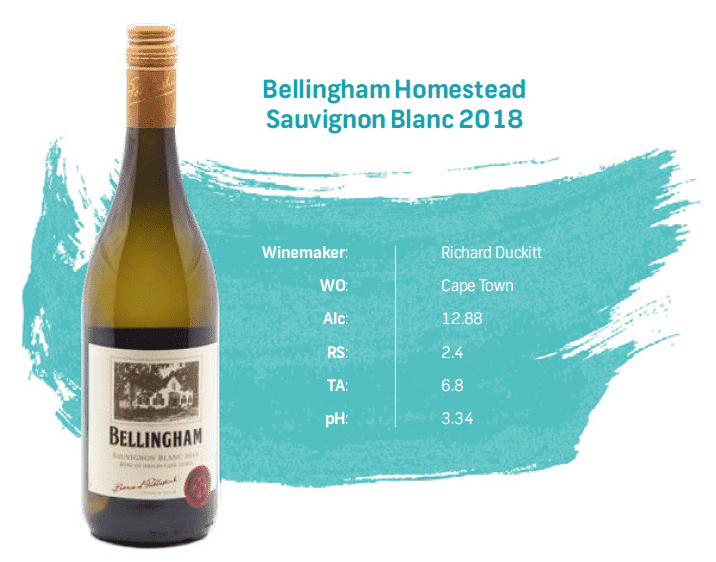 Bellingham Homestead Sauvignon Blanc 2018
The vineyards are situated in Durbanville, and the soils are mostly granite and shale with excellent water-holding capacity, ideal for dry-land farming. Grapes were hand-harvested in the third week of February, destalked, gently crushed and cold fermented at 16°C in stainless-steel tanks. Extended contact with the gross lees stirred up periodically, adds richness. Beautiful light, pale yellow with a golden tinge, exotic melon and pear fruit flavours and citrus on the nose. The palate offers an exciting burst of citrus flavours with a crisp and clean finish. Pair with summer salads, grilled fish and lazy days around the pool.
D'Aria The Songbird Sauvignon Blanc 2017
After pressing, the juice spends about 24 hours on the skins before it's transferred into stainless-steel tanks, while a small amount (about twenty percent) goes into a ceramic egg for fermentation. After three months on the lees, a selection is made from the various tanks and blended with the ceramic egg component. This results in a complex Sauvignon Blanc, combining aromas and flavours of green pepper, asparagus and gooseberries with tropical fruit and hints of grapefruit on the finish. The palate is full, yet elegant. A serious food wine calling for white meats, from fish and shellfish to chicken and pork. Delicious with vegetarian dishes as well.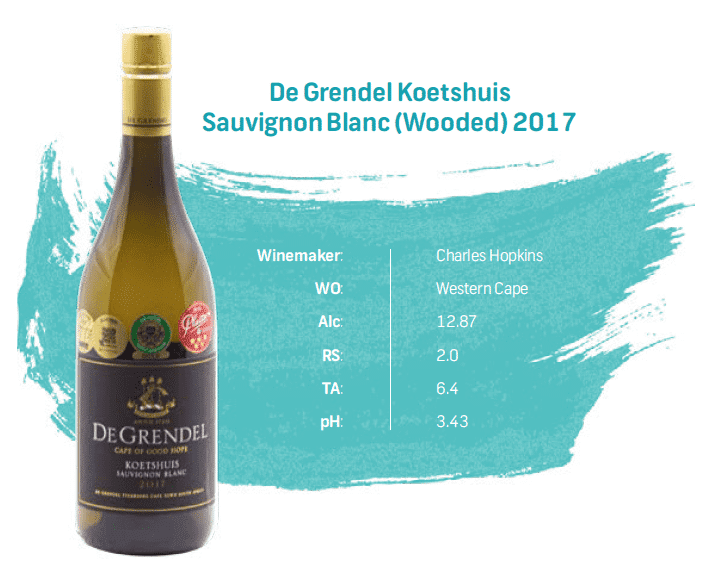 De Grendel Koetshuis Sauvignon Blanc (Wooded) 2017
A special vineyard selection is made from high-quality vineyards in Lutzville and Darling, in which meticulous vineyard maintenance ensures superior fruit concentration and bolder flavours. Complex, concentrated and bold – this wine will benefit from aging. A perfect partner for white fish with zesty citrus sauce, tart goats' cheese, and fresh green salads dressed with vinaigrette while young. With a bit of age however, slightly richer seafood dishes with a touch of cream would be sublime. Concentration of flavour and acidity promise excellent maturation potential for the next four to five years, and it will become increasingly richer and integrated as the acidity mellows.
Diemersdal Winter Ferment Sauvignon Blanc 2018
Gentle slopes exposed to the micro-climate of the Atlantic Ocean result in the vineyards being influenced by the cool airflows and morning mists. Along with dryland farming on soils of decomposed granite with a high clay content, the vines offer intensely flavoured fruit, resulting in wines of elegance, character and structure. After harvest, the juice for this wine was frozen at -20°C and kept in this state for five months. It was then thawed and fermented in the heart of the Cape winter. Inoculated with CKS-yeast, the two-week alcoholic fermentation temperature was controlled at 14-16°C, and stabilised and bottled soon after. The wine has intense aromas of gooseberries, tropical fruit and sweet grapefruit with a core of minerality. The excellent natural acidity creates balance to the concentrated, rich, mouth-filling texture.
Flagstone Free Run Sauvignon Blanc 2017
This wine displays all the classical cues of a combination of cool-climate and coastal Sauvignon Blanc with grapes originating from Elim and Elgin. Fresh green pepper is complemented by passion fruit, green citrus and fig leaves, followed by a distinctive flintiness. This enticing complexity characterises the palate, giving this wine a full, yet fresh and crisp mouthfeel with a lingering aftertaste. Pairs well with foods that offer a certain amount of zest. Also try it with steamed asparagus, a spaghetti vongole, an avocado soup or herbed risotto.
Fryer's Cove Doringbay Sauvignon Blanc 2017
Doring Bay is the home of Fryer's Cove Winery. The unique winery building is an old crayfish factory perched on a jetty in the Atlantic Ocean, and it may well be the only winery in the world built on the sea. This Sauvignon Blanc is fresh, crisp, steely, grassy, ripe and tangy, with strong hints of tropical fruit. The wine shows all the hallmarks of the unique west coast style of cool-climate Sauvignon Blancs. Pairs well with cheese (especially goats' cheese), green vegetables (asparagus, zucchini, fresh peas, artichokes), oysters, delicate fish such as sole, and salads with mild vinaigrettes. Enjoy within five years after bottling.
Nitida Wild Child Sauvignon Blanc (Wooded) 2017
Creamy nectarine smoothness hugs riotous strawberries and raspberries with quirky gooseberries teasing gentle lime. Discipline is restored with a nutty finale. Durbanville Sauvignon Blanc is characterised by complex thiol (granadilla and guava) and pyrazine (grassy, herbaceous and vegetative) flavour compounds. Dazzling white gold in appearance, shimmering in the glass. Notes of box wood and cassis vibrate side by side, penetrated by shafts of herbaceous, nettle-like character. Maturation on lees has provided a rounded edge to these characters, polishing rather than subduing their impact. The palate is marked by thrilling acidity and a fine mineral texture, with a core of flavours leading deep into the finish.
Rustenberg Stellenbosch Sauvignon Blanc 2018
The Rustenberg Stellenbosch Sauvignon Blanc is sourced from vineyards just over 550m above sea level against the Simonsberg Mountain. The cooling effect of altitude and the oceanic breeze from False Bay and Table Bay, combined with the vineyards being planted on west-facing slopes, make for the ideal production of a full-flavoured Sauvignon Blanc. Made without the influence of oak, the wine is aged on its lees for further palate weight and complexity to balance its natural acidity.
Tokara Reserve Collection Elgin Sauvignon Blanc 2018
This 100% Sauvignon Blanc is made from grapes grown on Tokara's Highlands farm in Elgin. The wine displays a stunning light straw colour with a green edge. Inviting aromas of granadilla, Cape gooseberries, lemongrass and hints of fresh-cut grass entice the senses. There is an amazing freshness as the wine enters the palate, with citrus and grapefruit flavours leading to a creamy mid-palate and a lingering, crisp finish. This wine drinks well now, but will benefit from correct cellaring until 2028. Best served cold and drunk as an aperitif or served with fresh summer oysters, asparagus with hollandaise sauce or grilled yellowtail with salsa verde.
Zalze Vineyard Reserve Sauvignon Blanc 2017
The Sauvignon Blanc was handled reductively from the start with dry ice in the vineyard through to the fermentation vessel. The grapes were crushed on arrival with a CO2 blanket and given at least 12 hours skin contact, extracting all the beautiful flavours nestled in the skins. The juice was racked from the skins with gravity and settled for 24 hours. The wine spent seven months on primary lees before being bottled with coarse filtration. Clean and fresh with stone fruit, blackcurrant and grassy notes on the nose. Mineral driven, fine but textured palate with a racy finish. Drink now or keep for two to five years.