A cellar worker from Lourensford Wine Estate in Somerset West received the best birthday gift ever this year.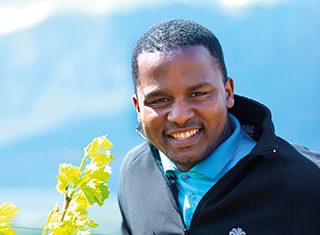 Ivan, a senior cellar assistant at Lourensford Wine Estate in Somerset West, was named SA Cellar Worker of the Year 2016 at the annual Cellar Worker Information Day held at Goudini Spa, Rawsonville, on 28 October.
"I'm excited about winning this year," he says. "It came as a big gift on my 30th birthday! After ending fourth in 2015, I was determined to win this year."
The two runners-up were Regan Theodore from Vergenoegd, Stellenbosch, and Heinrich la Fleur from DGB, Wellington.
The three winners were among 369 cellar workers who attended a series of four study groups presented by the wine industry's research, training and technology transfer organisation Winetech. Those with the highest average marks for theory and practical tasting were invited to take part in the SA Cellar Worker Programme and underwent a final evaluation based on all learning material.
"The standard was very high this year," says Santi Basson, project leader of the SA Cellar Worker Programme, which is sponsored by the VinPro Foundation. "We usually select the top 10 cellar workers for further evaluation, but had to choose 14 this year as the marks were so close. It's especially noteworthy that Ivan is our first Xhosa-speaking winner and that we have seen a great expansion of the Xhosa study groups since introducing them last year."
Ivan's next big dream is to become an assistant winemaker and eventually winemaker.
"And he'll achieve it because he has the perseverance," Lourensford winemaker Hannes Nel says. "We've seen him grow since taking part in the study groups and programme. He has not only acquired knowledge beyond the usual cellar environment, but has also gained confidence and a real love of wine. We're proud of what Ivan has achieved."
Ivan has a message for other cellar workers. "Keep on dreaming, don't give up and you'll reap the rewards," he says. He thanked Lourensford, and Hannes specifically, for their ongoing support for and interest in employee development.
The SA Cellar Worker Programme and Winetech study groups have been making a significant contribution to the innovative transfer of technology since their introduction in 2009, and recognise cellar workers for their invaluable contribution to the industry. The winner and two runners-up for each year form part of the Circle of Excellence, a programme for further knowledge sharing, mentoring and support.
Cultivars, climate and business on the agenda
The annual Cellar Worker Information Day, sponsored by Nedbank since 2014, is one of the highlights on cellar workers' calendar. It's not only the day the Cellar Worker of the Year is announced, but is also a platform for information transfer.
This year's presentations included an overview of interesting new wine grape cultivars, the effect of climate on vineyards and the influence of smoke on wine quality. Groot Constantia Trust chairperson dr Ernest Messina inspired the audience with his message. "Only you can determine your life journey going forward," he said. "Tell yourself you're worth it and let it show through your attitude, commitment, respect for yourself and others, and loyalty towards your employer."
The event was attended by close on 200 cellar workers, winemakers and other wine industry role players.
"The wine industry is an important contributor to the Western Cape economy, and its cellar workers are an integral part of this," says Helmien Havenga, Worcester Nedbank sales area manager. "Nedbank is a proud sponsor of the Cellar Worker Information Day during which recognition is given to this outstanding group of people."