WineLand Media
Since 1931, WineLand has been the go-to source of information for the South African wine industry. Winemakers, grape-growers, viticulturists, service providers & suppliers, researchers & academics, wine marketers & decision-makers all turn to WineLand for up-to-date and relevant content that truly captures the dynamic spirit of the Cape Winelands. Covering the entire spectrum of the wine value-chain, WineLand articles range from the latest in business and production trends (locally and internationally), viticulture and winemaking research, including social upliftment, learning, development, transformation, wine tourism, technology, marketing and advocacy.
WineLand Magazine (formerly known as Die Wynboer) is a monthly print publication, published and distributed by WineLand Media, a division of Vinpro – the representative organisation for South African wine cellars and wine grape producers.
The magazine is read by a subscriber base that includes 2 000+ producers and wineries, 750+ winemakers, 200+ viticulturists, including various other educational institutions, media key directors and managers, advertising agencies as well as suppliers and service providers to the industry.
The Winetech Technical section comprises mainly research articles from experts in the field of viticulture, oenology, soil science and agro-economics. This section is compiled in collaboration with Winetech, an independent South African non-profit company that receives and manages the research statutory levy from the South African wine industry. WineLand Media publishes the South African Wine Industry Directory 2022, a comprehensive guide to the wine industry value chain. The bulk of the index comprises profiles of all active wine producers, cellars and wineries, including new information on the pandemic impact, media and wine influencers, local and international organisations, wine routes & regions, production areas and grafted vine nurseries, as well as suppliers & service providers.
In recent years, WineLand Media has expanded its digital presence across all of its online platforms, including its website, social media channels (Facebook, Twitter & Instagram), monthly e-Newsletter and video production services.
Vinpro
Representative organisation for South African wine producers
www.vinpro.co.za
WineTech
Wine Industry Network of Expertise and Technology
www.winetech.co.za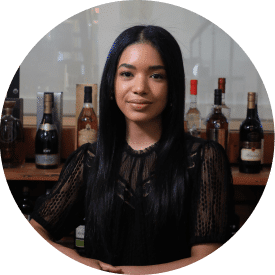 Lisa Lottering
The millennial
Born and bred in Cape Town, Lisa has a zest for life. This new kid on the block keeps the rest team up to date on trending topics and in true millennial fashion, she always has her phone in hand. She's eager to meet new people, expand her wine knowledge and master her craft in journalism. She's passionate about digital and social media and when she's not shopping, she enjoys Netflix and chilling with a glass of wine or Cap Classique.
Tania
Swanepoel
The negotiator
There is only one thing that Tania likes as much as the outdoors, and that is being around people. This negotiator is from Swellendam and will take advertising management to the next level. After school Tania studied in Stellenbosch and before joining Vinpro she was involved with business development at Newclip Media Monitoring.
Jana Loots
The perfectionist
With a keen eye for detail, Jana "Changes" Loots is the dynamo behind Vinpro's brand and member communications and a walking Wikipedia for all things Vinpro-related. But don't be fooled … at 1.5 m, she punches well above her weight! Her versatility, dry sense of humour, and thought-provoking story ideas add spice to the team. Originally from a small town in KwaZulu-Natal, she has called Paarl her home for the past 17 years, where she and her husband raise their two young girls.
Johannes Richter
The philosopher
An insatiable thirst for words that matter, carefully nurtured over years as a publisher of scholarly books, finally prompted Johannes to shift careers and begin exploring the exciting people and stories of the Cape winelands. A native of the North-West and later Pretoria, he now calls the Cape home, having settled in the Paarl with his wife and two children. As a journalist at WineLand he is guaranteed an endless supply of good company and fine wine.
Martina Newman
The Gatekeeper
From the first "hello" to receiving your copy of WineLand Magazine, all things admin is Martina's game. She provides support to the team and ensures that the subscription cogs are always turning. Originally from the Mother City, Martina, her husband, five-year-old daughter and two dogs, have their roots deeply entrenched in the Cape Winelands. She now finds herself immersed in all things wine and her favorite pastime includes shopping, cooking, organising, and shopping (in that order).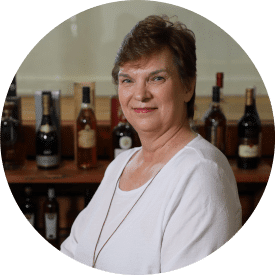 Doronae de Ridder
The eagle-eye
Doronae is the soft-spoken office-pivot and anchor. She has been with WineLand for more than 40 years but enjoys and patiently endures the WineLand youngsters. This mom of two offers a supporting role regarding the budget and looks after the creditors and the Winetech Technical section with great care and attention to detail. Her eagle-eye for spotting spelling and grammatical errors is legendary. She loves traveling, interior decorating, and cooking.
Anton Pretorius
The creative genius
Anton grew up in Paarl and his love for media and the outdoors has taken him all over the world as the editor of Land Rover AFRICA Magazine. Comfortable with both pen and camera in hand, he prides himself on being a 360-degree multimedia content specialist. When he's not chasing stories for WineLand (video, print, online or social channels), he enjoys spending quality time with his family, playing guitar, or having a braai with a glass of ice-cold Chenin Blanc.
Wanda Augustyn
The wonder woman
Born and bred in Namibia, Wanda did not drink a glass of wine until her paths crossed with KWV after her studies and stints in marketing and advertising. With an honors degree in journalism, she wrote for leading South African publications before her attention was captured by the world and people of wine. As an editor, everything starts and ends with her. This avid reader is always on the hunt for new content and ideas. She enjoys animals, fashion, healthy living, decorating, and music. As a mom of two boys, she knows a thing or two about frogs, football, tractors, and TikTok. When she doesn't work, she loves to have friends over and sip on a glass of very dry white wine or run in the Boland mountains with her two Italian Greyhounds.