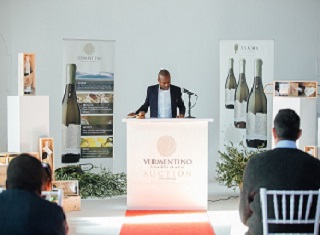 A historic auction to celebrate the first-ever release of Vermentino in South Africa was held on Youth Day, 16 June 2017. Every single lot of the limited-edition (1 500 litres in total) wine was sold at this landmark auction. This event, arranged by Ayama Wine Farm, was held in aid of youth development and raised R128 750 for the Perdjie School. The very welcome cash injection will go towards a school bus, allowing even more children the opportunity to attend the school.
Vermentino is a light-skinned wine grape that makes for a medium-full-bodied wine. It is common in Italy and widely grown in Sardinia. Ayama is responsible for the introduction of Vermentino into South Africa, from a Sardinian clone. The project is the brainchild of Ayama's owners Attilio and Michela Dalpiaz, an Italian couple who fell in love with the Western Cape and relocated to South Africa 14 years ago. Under their careful direction, Ayama has become a strong export brand that is much loved in Europe, Asia and the States, where it is distributed widely.
Some years ago the couple started thinking about how they could do something that would set them apart from other wine farms in the Cape; that would connect their new homeland with the culture and traditions of Italy; and which would launch the Ayama brand to the South African market. To this end, Attilio and Michela invited Italian agronomist Augusto Fabbro to come out to South Africa in 2007 to study their terroir – Ayama lies on the lower slopes of Perdeberg Mountain – to see which variety would be best suited to their land. The climate of the Voor Paardeberg region is particularly suited to Mediterranean style wines and thus Vermentino was identified as the most likely candidate. After six years of import permissions, quarantine approvals and propagation, the very first Vermentino vines (one hectare) were planted at Ayama in 2014.