In 2017 Vinpro launched a new technology transfer project, namely the Gen-Z Vineyard Project. The objective of this project is to establish various types of demo plots, for example new cultivars and clones, rootstocks, trellis systems, pruning systems and viticultural practices in existing commercial vineyard blocks on producers' farms. The sites are subsequently visited on farmers' days to demonstrate the results/measurements and discuss them with producers.
As part of the Gen-Z Vineyard Project altogether 16 cover crop demo plots were established in wine producing vineyards throughout the Western Cape in 2017 and 2018 (Photo 1). Two seed companies, Barenbrug and Agricol, donated the seed and their agronomists made recommendations about the cover crops and mixtures that can be established in the various regions. They also assisted with the evaluations and discussions on farmers' days (Photo 2) that were held at some of the demo plots.
PHOTO 1. Example of a cover crop plot at De Wetshof Estate, Robertson.
PHOTO 2. Mini-farmers' day at Kanonkop, Stellenbosch.
In 2017 the drought unfortunately resulted in very poor growth, but good rain during the post-harvest period and early winter of 2018 produced excellent results. Here are some of our most important general observations with regard to these plots:
The cover crops included certain new crops/cultivars that were established in vineyards for the first time:
–  Forage barley (Moby) – establishes and grows quickly at the start of the season. It was the best cereal cover crop established on its own. Sowing rate: 40 – 45 kg/ha.
–  Forage rye (Barpower) – performed well, especially in a mixture with vetch. It is a cheaper and often better alternative to triticale. Sowing rate: 35 – 40 kg/ha.
–  Phacelia – a brand new cover crop that was established for the first time this year and looks very promising. It is exceptionally drought tolerant and produces good material. It will be further evaluated in forthcoming seasons. Sowing rate: 3.5 – 4 kg/ha.
Mixtures of cereals, for example triticale or forage rye and vetch (Photo 3), fared very well everywhere. It resulted in good weed suppression and produced large amounts of material. The given soil type will determine which cereal should be present in the mixture.
Among the cereals saia oats also fared very well resulting in good material and excellent weed suppression.
The clovers fared poorly and were overgrown by weeds, because they only really start growing late in the season. They are however better options as covercrops on the berms.
PHOTO 3. Barpower forage rye/Haymaker vetch mixture with excellent material production by Frederick le Roux, Hermon.
The white mustard variety, namely Sito (Photo 4), produced very good results. It produced ample biomass and provided very good weed suppression. This cover crop fared extremely well despite last year's drought.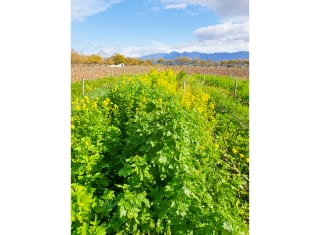 PHOTO 4. Good growth of Sito white mustard in the cover crop plot on De Wetshof Estate, Robertson.
PHOTO 5. Johan de Jager, Vinpro soil scientist, on the Sito demo plot in Hermon.
Soil type also played a significant role in cover crop performance, especially in the Wellington area where lupins fared much better than vetch on the weathered granite soils. On the weathered shale soils vetch came into its own and produced very good material together with Barpower forage rye. It is therefore extremely important to keep soil type in mind when selecting crops.
Large differences occurred where 100 kg LAN/ha fertiliser was given at four to six leaf stage compared to rows with no fertiliser. Often this doubled the production of material.
Cheeseweed and rye grass were the two weeds that competed most with the cover crops on the demo plots. These weeds can be controlled by selecting cover crops that provide good weed suppression.
Some of the results, findings and/or recommendations from the demo sites can be found in future on the Gen-Z website (www.genz.co.za), which is currently under construction.
With thanks to:
Our producers/farm managers who hosted these demo plots. Barenbrug (Jaco Kellerman and Ivan Jansen van Rensburg), as well as Agricol (Christof Muller) for the donations, advice, time and involvement in farmers' days.