As chairman and convener of the annual Old Mutual Trophy Wine Show, Michael Fridjhon is widely recognised as South Africa's foremost wine taster and wine judge. Anton Pretorius caught up with him to get his thoughts on the state of South Africa's wine industry.
Q: Your overall impressions of this year's entries at the OMTWS?
MF: I'm very happy with the quality of entries this year. We've seen fewer spoilt wines. For me, that's a sign that winemakers are much more conscious in the production process, from hygiene to proper intention. What characterised this year's competition was the strength of quality across a wide range of classes. There's been some great vintages over the past three years, and it has certainly been expressed in the final medal tally. I'm happy to report that the South African wine industry has risen to the challenge. The bar has been lifted. Many of the bronze medal winners would have been silver medallists two or three years ago and probably even gold or gold candidates 10 years ago.
Q: Are there still 'growing pains' among SA wine-makers?
MF:  Most of the problematic and much-debated issues of the past – like the role cork plays, bacterial spoilage, high acidity, massively overdone tannins and clumsy winemaking – were minor in the wines presented on the tasting benches this year. As the classes become more defined, it becomes slightly easier. There's obviously still the question of experimental practices. The issue of Chardonnay and Cinsaut comes to mind. Cinsaut was better two years ago, but with so much excitement around it, winemakers were trying too many different things. Once the 'groves' are more clearly laid out, like making a wooden or unwooded Sauvignon Blanc, you're going down a road that's a well-trodden path and you know what's expected of you…
Q: Has the ensuring drought and water shortages of the Western Cape impacted this year's entries in any way?
MF: Nothing we've seen yet. Bear in mind that the real drought vintage is now. But both 2016 and 2017 were low-water vintages, and all of them were pretty good. It tells us that the water usage in the past was probably excessive. But there are crucial issues that need to be unpacked. The most important is the winter rain – not only because it is required to restore the water table, but because the vines need a post-harvest irrigation. Whether it's going to come from the heavens or from the dams, it's still difficult to say. If that doesn't happen, knock-on quality issues will carry over to the next vintage. So far, there's been little evidence of that. Stellenbosch, Elgin and Hemel-and-Aarde (Hermanus) vintners experienced little water pressure, and they've been happy with their vintages. But growers in Paarl, Swartland and the West Coast might see a few knock-on effects in the future. But for the moment, they're doing fine.
Q: What made this year's winning wines stand out from the rest?
MF: We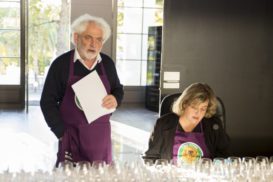 tasted a lot of wines over the course of the three days, but it's a very exciting moment when the dross is cleared and you've got 30 or 40 top quality wines to judge. You really get a sense of how good the top level is, not the middle or lower level. From the trophy winners, the one element I picked up on what the thoughtfulness that went into each wine. I'm wary of using the word 'restrained' because in the past, it was often used as an euphemism for light and flimsy (and we're fallen into that trap before). If a wine was delicate and pretty, the question had to be asked: Were any of those wines in fact, intense, concentrated and nuanced enough to be up there with the gold medals? I think most of them were. Probably 80% of the line-up had definition, precision and an absence of discernible wood. We're not saying that no one needs to buy another barrel ever again, but we felt that we wanted to see the fruit rather than the wood doing the work. Debra [Meiburg, judge] once said: "I'm tasting a lot of the Cooper's art, and not the vintner's art." And I'm happy to say that we've seen a lot of the viticulturist's work come through in the wine.
Q: What are some of the more noticeable trends in wine producing?
MF: Isa [Bal, judge] is more tolerant of wines that aren't as polished as what we're used to. It's not to say that the wine is granular or clumsy. But he doesn't mind a wine that's bubblier or a wine that has more acidity. One of the more noticeable trends this year is savouriness. For me, it's an important criterion. If your wine is not savoury, then to use Marc Kent's much-quoted expression: 'no one will drink the second half of your bottle.' The other noticeable trend was the non-discernibility of oak. The wood is now less overwhelming, and rather filling in gaps and rounding off spaces. Red wine makers have also become more fruit conscious.
Q: What criticism was there?
MF: Some of the wines, especially in the Sauvignon Blanc class, were good, but in a commercial way. We didn't see enough precision and intensity about them. My thoughts are that it's a formula or recipe-wine making issue. Sauvignon Blanc is the greatest victim of this because it's competing in a very busy market. Sauvignon Blanc producers can make the same wine year in and year out and it becomes somewhat of a cash cow.
Q: Did you see enough authenticity from this year's entries?
MF: Authenticity is always top of mind for me. I think the red wine classes showed a lot of authenticity this year with the working of the fruit. For example, with the Cabernet, I found more flavours of Cassies and graphite and those little herbal notes (which I don't mind at all!). But five years ago, it would have all been subdued under hyper-ripeness and a serious dollop of oak to ensure that there was nothing authentic left.
Q: Are South African wine producers displaying sufficient diversity in their skill sets?
MF: Winemakers are showing better intent on what direction they want their wines to go in. On the well-trodden paths of Sauvignon Blanc, Chardonnay and Cabernet, the skill sets of our winemakers are undoubtedly there, and we're seeing a lot more competent winemaking emerging. The danger comes when winemakers venture down unchartered routes. "Experimental winemaking is not necessarily the most satisfactory. But the fact that we had three Cabernet golds – the highest we had in years – means that the building blocks of our Bordeaux blends are all there. Winemakers in South Africa are much more conscious about the individual components in their wine.
Q: How do South African winemakers compare to their international peers?
MF: South African winemakers don't have to stand back for anyone anymore. There are many winemakers under 40 coming through the ranks and these kids are sharp out of the starting blocks. They are way more informed, they're travelling a lot and they're just way more worldly and knowledgeable. The next generation of winemakers are nibbling at the heels. Overall, I think there's much better technical competence. From that comes something else: An unbelievably lunatic fringe of young winemakers. But you can't be that unless you're at the top of your game. It's a very exciting era. South African wines often take the lion's share of international awards and trophies, but why don't we win overall? That's because we're still lacking real depth.