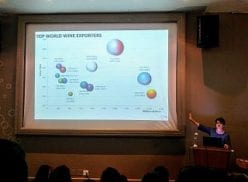 The South African Society for Enology and Viticulture's (SASEV) post-harvest workshop, presented at JC le Roux on 18 May, provided critical insights on a cross-section of the recently completed 2018 harvest. The harvest was our smallest in a decade and 15 – 20% smaller than last year's. Combined with Europe's historical low yields – amounting to twice SA's total harvest – the wine industry is facing challenges that require a clear vision and strong leadership. The presentations were certainly sobering.
Slanghoek viticulturist Callie Coetzee presented an analysis of the harvest in the Breedekloof, Worcester and Robertson areas, while Vinpro's viticulturist Hanno van Schalkwyk underlined the drought's heavy toll on the Coastal region.
Hanno laid out the seasonal conditions leading up to the 2018 harvest and highlighted specific symptoms of the drought such as bunches not ripening evenly. Even dryland vineyards were showing signs of extreme stress. It was not only doom and gloom though, as these conditions also presented an opportunity to learn valuable lessons:
Forced to employ strict water budgeting, viticulturists were able to refine their irrigation regimes
Better understanding of which cultivars are more resilient
New appreciation for how rootstocks contribute to drought-resistance
The value of deep and efficient root systems
The importance of balance and pruning for increased plant reserves.
(Refer to the guidelines compiled by Vinpro's Consultation Services to assist producers in decision making pertaining to post-harvest practices in drought conditions.)
These conclusions emphasise the need for continuous research and testing. Hanno pointed to the ongoing Gen-Z project which coordinates various trials across the winelands, allowing farmers to witness first-hand the effects of various methods on vineyards. A website with more information is forthcoming.
In her presentation, Yvette van der Merwe of SAWIS pointed out trends over the past decade, saying the decline in production of more than 2% per year can expect to hold until 2022. She echoed Vinpro's conclusion that wine producers will have to earn approximately 30% more to remain viable. The industry's desperate restructuring to address low ROIs is witnessed by fewer new plantings and a steady attrition of established vineyards.
The fact that South Africa now commands the lowest prices in wine exports (by Euro/litre) only rubs salt in the wounds. But on the positive side, Yvette emphasised that the local trend towards premiumisation continues unabated, which should stimulate ever-evasive value.
The wine industry's returns are by nature cyclical, and a leaner, meaner industry can look forward to a return to profitability. Quality will be essential for survival.
Other speakers were Niel Groenewald (Distell), Leanie Louw (Senselab), Karien O'Kennedy (Winetech) and Eben Sadie (Sadie Family Wines).